Skupina potnikov v petih dneh odkrije karakteristike in razlike v kulinariki in vrtovih med štirimi državami. Kratke razdalje med točkami ogleda, kot tudi lepota narave zagotavlja čudovito potovanje.
SLOVENIJA - POMURJE
Na vzhodu Slovenije leži dežela širokih polj in mehkih bregov, klopotcev in plavajočih mlinov, zdravilnih voda in energetskih točk, slikovitih vinogradov, svojevrstne tradicije in dialekta, predvsem pa je to pokrajina gostoljubnih ljudi. Področje je bogato z naravnimi zdravilišči, ki vam dajo novo moč in energijo. Pomurje ima tri zaščitena naravna področja: krajinski park Goričko, krajinski park Jeruzalemsko - ormoške gorice in krajinski park Negova.
HRVAŠKA - MEĐIMURJE
Na najsevernejšem delu Hrvaške, med Muro in Dravo, z zelenimi grički in bogatimi ravnicami, leži očarljiva pokrajina imenovana Međimurje. Regija je istočasno enostavna in prekrasna, gostoljubnost prebivalcev Međimurja pa je vedno fascinirala. Međimurje upravičeno imenujejo »Cvejetnjak Hrvatske«. Nedaleč od najvažnejših evropskih mest, na bogatih kulturnih in zgodovinskih temeljih je nastala odlična kombinacija tradicije in modernizma.
MADŽARSKA – ŽELEZNA ŽUPANIJA
Dobrodošli na zahodnih vratih Madžarske, v Železni županiji. Tam kjer se srečujeta zahod in jugozahod, kjer se visoke Alpe spuščajo v planinske in rečne doline, najdemo Železno županijo. Na potovanju skozi Železno županijo lahko obiskovalci občutijo skladnost in blago harmonijo. Ljudje, ki živijo tukaj spoštujejo in negujejo to deželo, kar je razvidno iz njene raznolike lepote.
AVSTRIJA – VZHODNA ŠTAJERSKA
Alpske livade z divjimi zelišči in orhidejami, romantične cvetlične vasi, sončni sadovnjaki in vinogradi. Na vzhodu Štajerske se odkriva neprimerljiva podeželska idila, kjer je na vsakem koraku vidna privrženost prebivalcev naravi in tradiciji. Posebni in edinstveni vrtovi vabijo k obisku Vzhodne Štajerske, da uživate v množici različnih botaničnih in kulturnih znamenitosti. (Pojdite z nami) Radi bi vas povabili na vrtni lov na zaklad!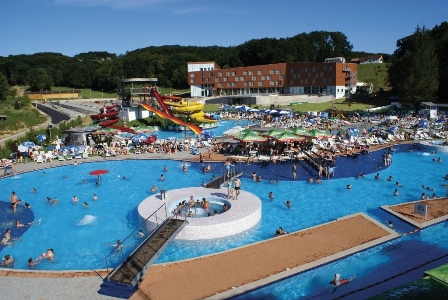 1. Dan Hrvaška
11:00 Prihod v Međimurje
11:00 "Međimurska priroda" – informacije o biodiverziteti flore in favne v regiji - http://www.medjimurska-priroda.info/
13:00 Kosilo v restavraciji Međimurski dvori - http://www.medjimurski-dvori.hr/
15:00 "Perivoj Zrinski" – ogled muzeja v spremstvu vodiča in sprehod po vrtovih in parkih Čakovca -http://mmc.hr/
17:30 "Medeni vrt družine Šardi" – ogled in degustacija medenih izdelkov
http://tz-nedelisce.hr/medeni-vrt-obitelji-sardi/5482
19:00 Prenočitev v hotelu LifeClass terme Sveti Martin- http://www.spa-sport.hr/si/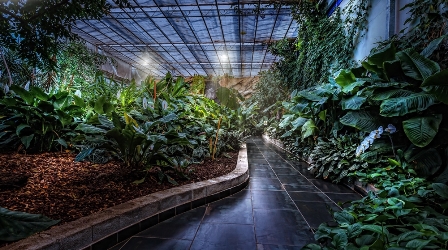 2. Dan Hrvaška in Slovenija
8:30 Odhod izpred hotela
8:45 Ogled Mlinarske hiše v Svetem Martinu - http://svetimartin.hr/mlinarska-kuca
10:30 Ogled parka in umetniške delavnice Valkaj v Železni gori - http://www.keramos-valkaj.com/
12:00 Prihod v Slovenijo
12:30 Kosilo v šunkarni Kodila http://www.kodila.si/
14:00 Ocean orchids in Tropski vrt v Dobrovniku voden ogled - http://www.oceanorchids.si/
15:00 Bukovniško jezero - http://www.bukovniskojezero.si/page/
16:30 Vinarium: razgledna ploščad, okušanje lokalnih specialitet in domačih vin
http://vinarium-lendava.si/sl/
18:00 Prihod in večerja v naselju vil in apartmajev Panonska vas - http://www.panonskavas.si/
3. Dan Slovenija in Madžarska
8:30 Odhod izpred hotela
9:00 Murska Sobota - ogled mestnega parka, muzeja in gradu - http://www.pomurski-muzej.si/
10:00 Vrt spominov in tovarištva Petanjci, voden ogled - http://www.dr-siftar-fundacija.org/
11:00 Voden ogled po krajinskem parku Goričko - http://www.park-goricko.org/
12:30 Prihod na Madžarsko
13:00 Kosilo v restavraciji Pajta. Pajta simbolizira harmonijo človeka in narave. http://pajta.hu/
14:30 Učna pot "življenje v travniške sadovnjaku". Lahko se poučimo o poreklu in koristi travniških sadovnjakov - http://www.orseg.info/
16:30 Ogled in degustacija "Batha Porta". Družina je tradicionalni pridelovalec bučnega olja. http://www.bathaporta.hu/
18:30 Prihod in večerja v Gotthard Therme Hotel & Conference, Monošter - https://gotthard.accenthotels.com/en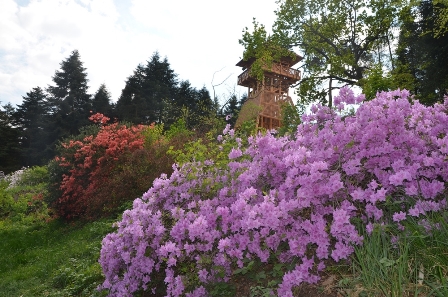 4. Dan Madžarska in Avstrija
9:00 Odhod izpred hotela
10:00 Voden ogled arboretuma "Kámon" v Sombotelu - http://www.kamoniarboretum.hu/
13:00 Kosilo v hotelu zur Lebing Au v Hartbergu - http://www.gasthof-pack.at/
15:00 Voden ogled in degustacija v oljarni Fandler v Pöllau - https://www.fandler.at/
17:00 Wurzelschaugarten in grajski park v Pöllau - http://www.naturpark-poellauertal.at/
18:30 Prihod in večerja v Boutique Hotel Erla na jezeru Stubenbergsee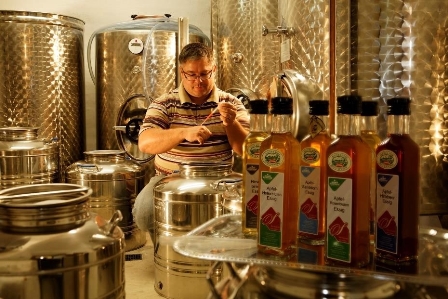 5. Dan Avstrija
8:30 Odhod izpred hotela
9:30 Voden ogled in degustacija v pridelavi kisa Oswald/Schaffer - http://www.essigmanufaktur.at/
11:00 Ogled sadovnjaka in degustacija na ekološki kmetiji Schloffer v Angerju - http://www.schloffer.at/
13:00 Puch bei Weiz - kosilo v restavraciji Kirchenwirt Hofer - http://www.kirchenwirt-puch.at/
15:00 Živalski vrt, grad in grajski vrt Herberstein v St. Johann bei Herberstein http://herberstein.co.at/
To potovanje je razvito v sklopu projekta Cosme Garden Route skozi 4 državeHrvaška – Slovenija – Madžarska – Avstrija